How to Use QR Codes in Your Restaurant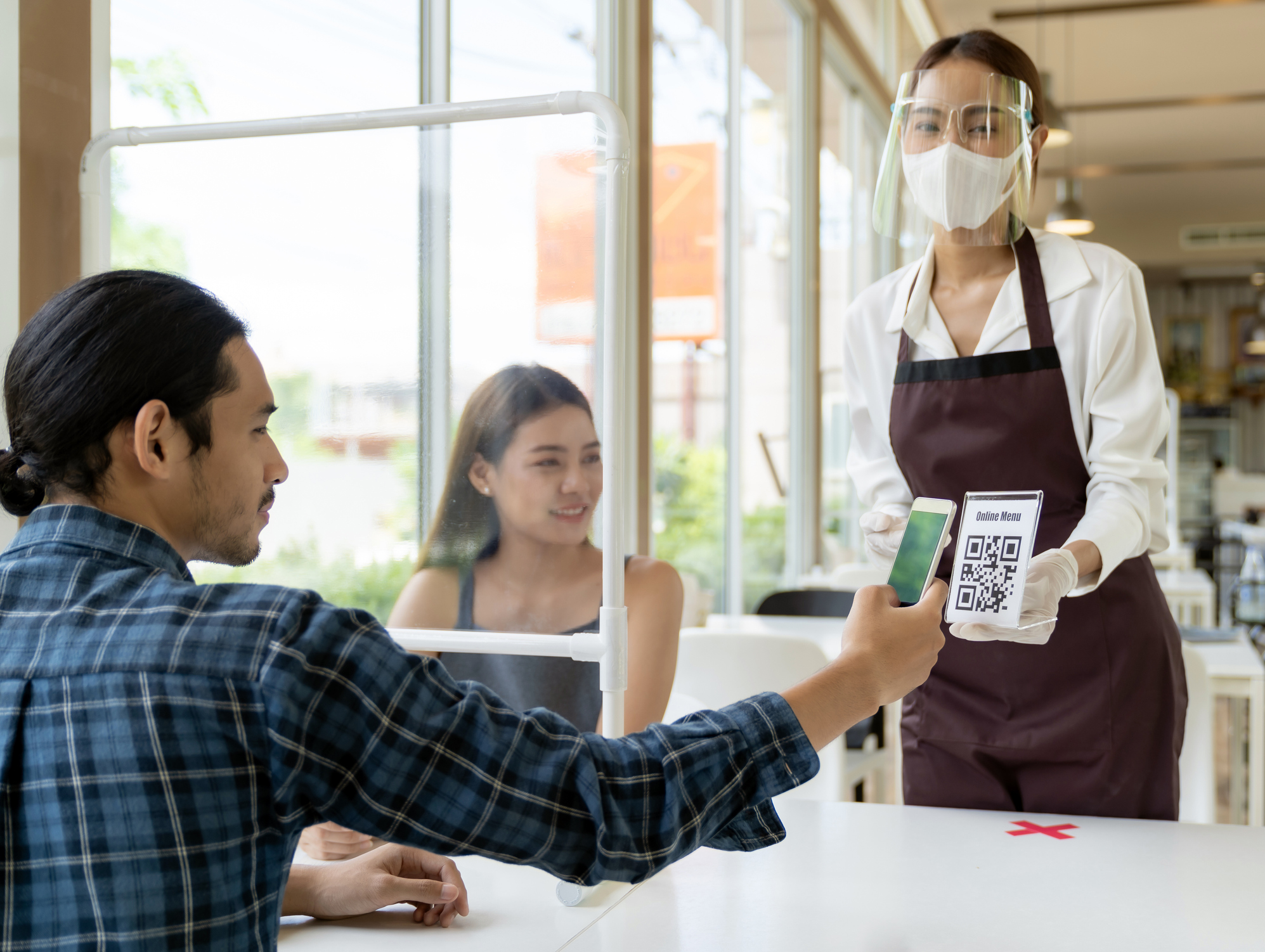 The QR Code Comeback
In the middle of what most are defining as the worst economic recession in the past 100 years, the ideas of "social distancing," "contactless marketing" and "safety first" are becoming the new norms of interaction.  Businesses big and small are looking for ways to offer customers a touch-free experience. In fact, one of the CDC's new guidelines for travel is to use contactless options whenever possible.
For your business to survive you need to be able to adapt to the new world order. Every day there are new technologies being introduced to offer safer ways for consumers and business owners to interact. However, there is one technology making a huge comeback, and that's QR codes (short for quick response codes). Although they never really left, they were never used as widely and successfully as they are being used now.
Firstly, what are QR Codes?
QR codes — which use a scannable design of black and white squares — have been around since the mid-2010s. The code, when scanned using your smartphone's camera, will open a link. For restaurants, these links can direct customers to their online ordering apps and menus and even allow customers to pay at their table with their phones.
If using an online ordering platform like PointOS To Go, these QR codes can all be generated from the same place but link to different things like your restaurant's central app, menu, or payment screen for individual tabs. All these different features allow customers to order and pay with less contact, whether dining in or ordering from home, but they can get confusing if you're not sure how to use them.
So with QR codes making a comeback in the restaurant space, and with lots of options for how to post them and what to link to, how should you use QR codes in your restaurant?
Linking to Your Online Ordering App
Food delivery and online ordering apps have helped keep restaurants operating amidst the crisis. Though many restaurants are now open at limited capacity for in-person dining, restaurants continue to rely on delivery and takeout to make up for lost in-person sales. QR codes posted at the table or hostess stand can link directly to your online ordering app, encouraging customers to download your app while on-site for easier ordering and payment while also making sure they'll have access to your app after they return home for quick online ordering in the future.
Linking to Your Onsite Menu
In addition to QR codes placed at the hostess stands, QR codes can be placed directly on tables for customers to scan for an online or PDF version of your onsite menu. This prevents the need for staff to sanitize menus after each use or pay printing fees for single use menus.
While some sanitization and safety requirements may be lifted as the crisis eventually comes to an end, scannable menus provide a more cost effective and adaptable option for in-person dining that will remaining useful long after COVID recedes.
Using QR Codes for Contactless Payment
Prior to COVID, lots of new contactless payment options started to emerge and become popular in retail settings. The original idea was to make purchasing more accessible and secure, but now it's become a useful way to remain touch-free from others.
Though the safety risks of cash is more obvious – having been circulated and touched by uncountable numbers of people – credit cards can also collect and carry the virus. That is why using QR codes to purchase products has become a must.
To enable QR codes by payment, you can set your POS to print unique payment QR codes on each check. Customers can then simply scan the code and submit payment through their phone. As an added benefit, customers can save their payment info to app for future in-person or online orders (or checkout even faster if they've already saved it!).
The Future of QR Codes
Even as COVID numbers see a decrease and restaurants go back to normal, these changes in the way we do things are likely to stick around. Once we beat COVID, people will want to continue with ways to stay safe & hygienic in shared environments. Not to mention, restaurants will also continue to benefit from the added efficiency of contactless menus and payment options.
Although these changes were probably always on the horizon, we can see now how the pandemic pushed them forward more quickly and with more success than expected. If you're interested in finding out more info on how to get your restaurant up to speed with QR codes, PointOS is here to help.
Like our stories or want to hear more?
Drop us a line @ [email protected]
See you next week!
Your devoted hostess,
Brittany
Share This Story, Choose Your Platform!