My PointOS Cloud
The myPointOS cloud provides remote access to all the back-office tools you need. Run your business from anywhere with fully remote access and live system updates.
Powerful restaurant back office settings
Make your menu however simple or complex you want it. PointOS gives you the power to configure complex menus and modifier settings while keeping order entry intuitive.

The PointOS room builder enables you to easily build rooms with unique layouts, settings, and menus.

Easily configure custom discounts, coupons, and special pricing for happy hour.
Restaurant inventory management
Don't get surprised by inventory. PointOS connects recipes to live inventory and item counts so your staff always knows what's available, and you always know what to order.

Cloud based inventory check-in and location transfers enable easy and accurate restaurant inventory management across locations.

Generate robust inventory reports to track trends and predict usage for simplified inventory ordering.
Advanced reporting
MyPointOS reporting provides access to the data points that matter most to you. Utilize pre-set reports or configure your own unique reports to analyze:
Employee management
Easily manage all employee data from one secure place. MyPointOS provides direct access to:
Start growing your business today!
Talk to one of our restaurant specialists today and learn how
our bar and nightclub POS software can help your business.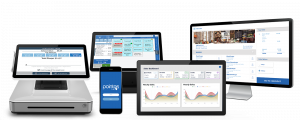 Schedule your free demo of our full-service restaurant software to learn more.